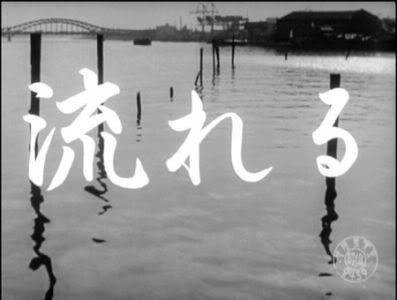 Flowing
marks the second of Naruse's "geisha" films that I've been privileged enough to watch, alongside the earlier
Late Chrysanthemums
(1954). The scope of the later film is narrower than
Late Chrysanthemums
, and its structure much tighter, thus making it the superior dramatization (in this writer's opinion). Moreover, the film boasts an extraordinary ensemble of Japanese actresses: Kinuyo Tanaka, Isuzu Yamada (both arguably icons of these geisha dramas thanks to their collaborations with Mizoguchi?), Hideko Takamine and Haruko Sugimura -- all in the same film! Needless to say, the opportunity to witness so much of Japan's crème de la crème in the same film is not one that should be passed up.
This film is such an intimate examination of the precariousness of geisha life in the 1950s. And it proves to me that Naruse is truly a great
woman's director
, as he seems so acclimatized to the psychologies of his female characters. He
entirely
assumes the female perspective here by using Tanaka's character to enter into, and retain an external commentary on, the declining geisha house that serves as the film's main setting. Thus, the audience too is compelled to appreciate the feminine viewpoint. And, typically for Naruse, it's a very poignant one that's on offer: these women are observed both in strength and in weakness, although their increasingly outmoded occupation ensures that it's the latter point that is most pertinent. How Narusean!
It's the director's ability to (once again) so brilliantly capture the richness of everyday existence that resonates above all else, imo. The film's title is befitting, as it opens with a shot of a flowing river that streams into the next shot of an urban street (a very familiar scene, for anyone acquainted with the director) and closes with the mirror image: a street that segues into the river. Naruse is situating his female crises in the daily 'flow' of modern life, whilst hinting at the continuity of their experiences - after all, the film doesn't really "resolve" any of its plotlines, so to speak.
Nevertheless, Naruse's observations are as acute and rigorous as ever. From the enfeebled-but-determined Madame of the house (movingly played by Yamada) and her vociferous employees, to the conniving 'superiors' who plot behind her back, right down to the two 'external' characters (the daughter, Takamine, and Tanaka's maid) that offer us an alternative outlook in this geisha-dominated environment - Naruse's devotion to, and sympathy towards, his characters is never in doubt. Therefore, one feels the need to give him something of a free pass for the film's one minor flaw (a tendency to become a little too overt with the internalized conflicts), because he and his actresses seem to have earned their right to express their grievances. The film's finale, which contrasts a discouraging affirmation of the geisha lifestyle with equally pessimistic shots of Takamine's forlorn attempts to carve her own future, underlines a world where both traditionality
and
modernity continue to fail the Japanese women that reside within. Bearing in mind the circularity of this scenario that's enforced by the film's visual bookends, who can really blame these women for letting loose every once in a while? Certainly not Naruse, that's for sure.