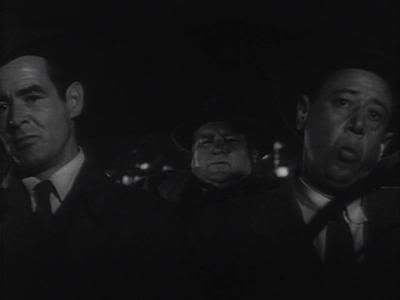 The cineaste's inherent need to categorize is masterfully exposed by Nicholas Ray's
On Dangerous Ground
(1952). With Bernard Herrmann's dynamically sinister score providing a serrated edge to the murky cityscapes of the opening credits, one could be forgiven for assuming that this is a film that will conform to the conventions of the urban
noir
. And indeed, for almost half an hour the director revels in the seedy underbelly of his dystopia, where perversity and profanity collide in a flurry of violence amidst the shadows. Credit the ominously restrained (for the most part) fervour of Robert Ryan's tortured police officer for grounding this segment with a psychological quandary that demands a resolution: how is it possible to survive in the gutters of society without losing one's humanity? In pursuit of those depths, Ray sends his cop on an ontological odyssey into the wilderness, via the morbid conceit of a manhunt for a murderer. Although the stylistic values of the
noir
appear to have evaporated, in the snow-covered desolation of the countryside the director locates the same crisis of morality that plagues the city. Accordingly, the film becomes a study of man in relation to his environment: in both locations, Ray follows his low-angle shots of the inhumanly tall Ryan with long-shots where the actor seems dwarfed by his ultimately empty surroundings. But all is not lost - without the neverending activity of urbania to shield him, Ryan's cop is at his most vulnerable. And then... he discovers Ida Lupino, blind yet resilient, and readily capable of empathising with his spiritual isolation. With a series of penetrating close-ups, Ray breaks down the defences that the pair have constructed against the world, and thereby emancipates their wounded souls. In mutual heartbreak and weariness, the duo enact a filmic ballad of loneliness that redefine the once unnerving snowy exteriors as a poetic source of revitalization. Ray has deceived the viewer: this is about the
environment
in relation to
man
, and the latter's potential to change it for the better. But this is no Hollywood ending:
[Spoiler]
it takes a death to enliven these hearts, and it requires the protection of blindness for them to thrive - the director is all too aware of his happy facade.
[/Spoiler]
No matter, in both reality and fantasy, the audacity of Nicholas Ray's filmmaking makes for nothing less than scintillating viewing.